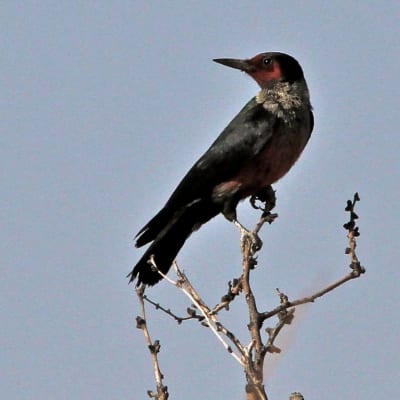 Bird Watching Paradise
DD Gamble Guest Lodge and Ranch is pleased to be classified as a Ebird.org.
The rarest bird seen at the Lodge was Lewis's Woodpecker. K. Feustel saw the bird and took the picture between the two gates.

With numerous feeders and water available throught the Lodge area, Birders have the opportunity to observe numerous birds without even leaving the property.
Our lodge is a short 15 - 20 minute drive from the world famous South Fork and Cave Creek birding sites. On the way to these two sites, stop at another Ebird.org hot spot, Willow Tank.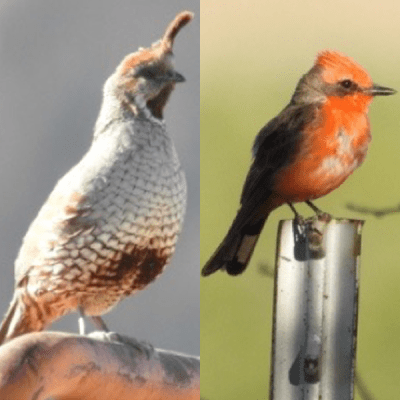 Backyard List
Started in 2014
Abert Towhee
Acorn Woodpecker
American Kestrel
Arizona Woodpecker
Ash-throated Flycatcher
Belted Kingfisher**
Bewick's Wren
Black Vulture*
Black-throated Gray Warbler **
Black-throated Sparrow
Blue Grosbeak
Brewer's Blackbird
Brewer's Sparrow *
Bridled Titmouse**
Brown Headed Cowbird*
Bronzed Cowbird*
Bullock's Oriole
Cactus Wren
Canyon Towhee **
Canyon Wren**
Cassin's Kingbird
Chihuahua Raven
Chipping Sparrow
Cliff Swallow**
Crissal Thrasher
Curve-billed Thrasher
Eurasian Collared Dove
Flame-colored Tanninger
Gambel's Quail
Great Horned Owl
Greater Road Runner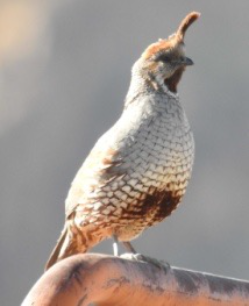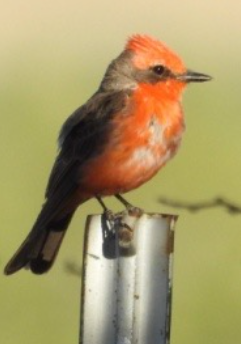 Green-tailed Towhee
Gray Flycatcher
Hooded Oriole
House Finch
House Sparrow (English Sparrow)
Ladderback Woodpecker
Lark Sparrow
Lazuli Bunting
Lesser Goldfinch**
Lewis' Woodpecker*
Loggerhead Shrike*
Mexican Jay**
Mocking Bird
Mourning Dove
Northern Cardinal*
Northern Harrier **
Pyrrholoxia
Raven
Red Tailed Hawk*
Rufous Crowned Sparrow
Ruby Crowned Kinglet**
Say's Phoebe*
Scaled X Gambel Hybrid
Short Tailed Hawk*
Townsend's solitaire**
Vermillion Flycatcher
Vesper Sparrow*
Warbling Vireo
Western Bluebird**
Western Kingbird
White Crowned Sparrow
White Winged Dove
There are three major areas that we consider to be our "back yard". The first is the area immediately around the Lodge.
The second is the 300 acre area surrounding the Lodge where our cattle graze. Birds observed here are marked with *.
The third area is Horseshoe Canyon a short hike from the grazing area's back gate. Birds observed here are marked with ** .
This list was started in 2014 and were observed by various guests.