Our Mission and Vision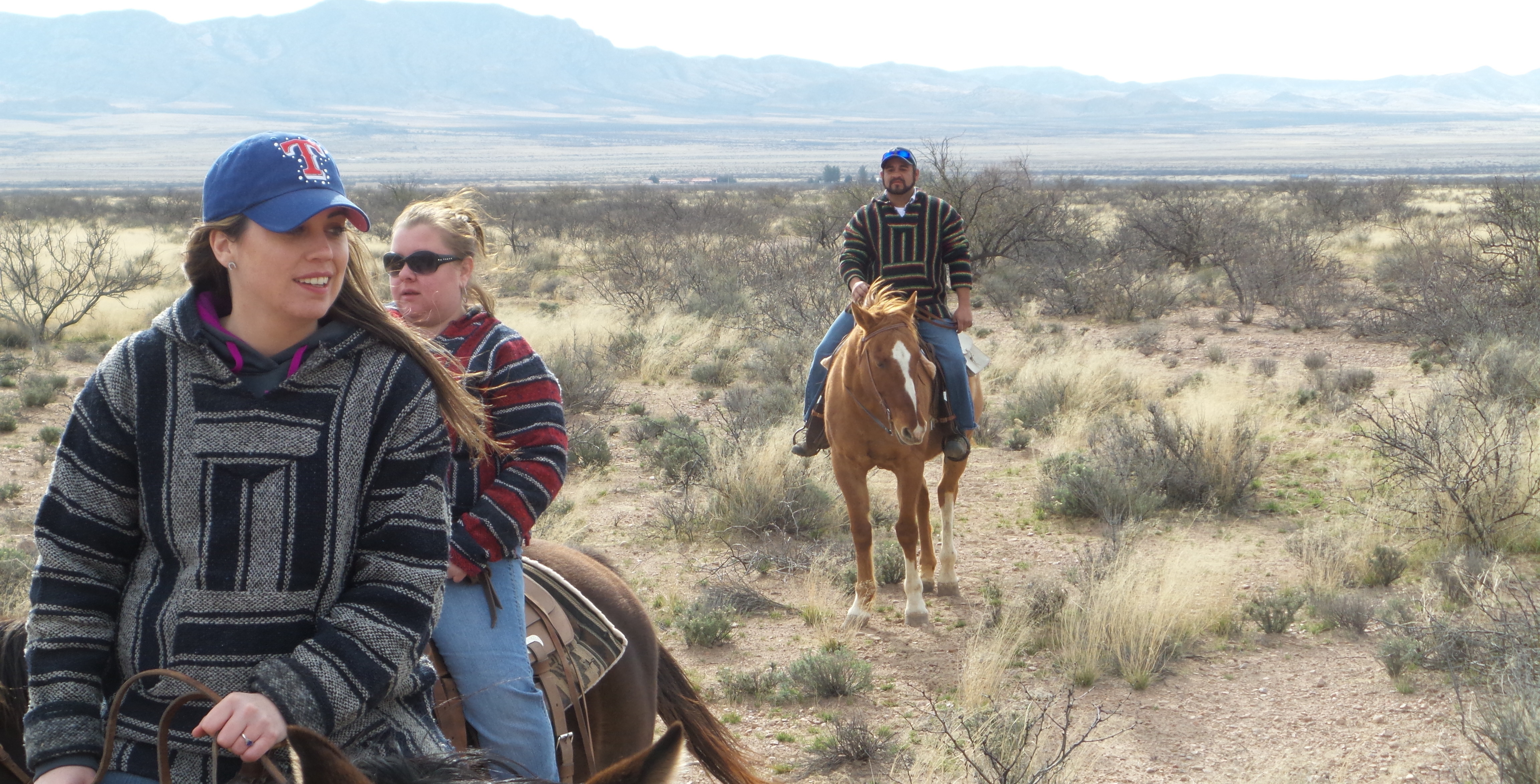 DMD Hearts and Hooves is a unique organization dedicated to providing service to those in our communities who can benefit from a portable indoor and outdoor miniature equine encounter. We have more than 22 miniature horses; so there is a miniature horse for everyone.
We provide services to veterans, the elderly, the terminally ill, and the learning and physically challenged. We have also developed an intervention program for at-risk youth in group or individual settings. Our services are provided on our client's site or at our ranch near Portal, AZ. Our miniature horses also provide a special service to all caregivers and family members.
When we see big smiles on the faces of our elderly and young friends, hear people talk for the first time in months, calm down from a terrible tantrum and they question us as to when their horse will come back to visit them again, it is hard to express the joy that brings to our hearts. We dedicate this miniature therapy service to our parents, Wilma, Rafael, Meme, and Thomas who spent their much of their lives giving to others in need.
We have been doing this work since 2009.
DMD Hearts & Hooves 501c3 History
a 501(c)(3) charitable organization
Alicia and Tom discovered the power of their miniature horses when Alicia's mother came to stay with them at their ranch in June 2009. Wilma had congestive heart failure and was wheel chair-bound. Wilma would ask that one of the miniatures be brought up to the porch for her to brush and pet. She would spend hours talking with them (especially Golden Willow who was pregnant at the time), brushing her, and just laughing at the idea that she could have a horse right up next to her at her age!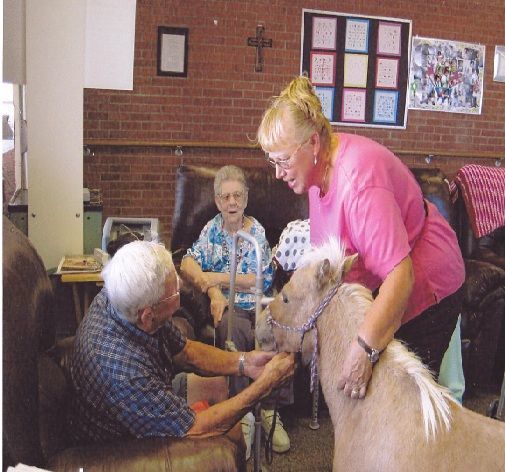 Wilma would read her book with Willow at her side and at times fall asleep in her chair. Willow stayed with her the whole time. Wilma told her sons and friends how she had spent the summer around horses all the time! One month later, Wilma passed away.
In late July 2009, Alicia went to Lockhart, TX to learn how to train miniature therapy horses by the founder of Hearts and Hooves. Upon returning home, Alicia already had 6 friends ready to be trained as volunteers and their first nursing home visit with the horses was scheduled.
Since that time, DMD Hearts and Hooves 501c3 has expanded exponentially. From the very beginning, the Veterans Hospital in Tucson was one of our primary clients. We travel from the ranch to Tucson (170 miles one way) once each month. We visit the Rehabilitation Center (Bldg. 60) and the Blind Rehabilitation Center. In addition, when the weather is good, we walk the horses by the outpatient clinic, Bldg. 80.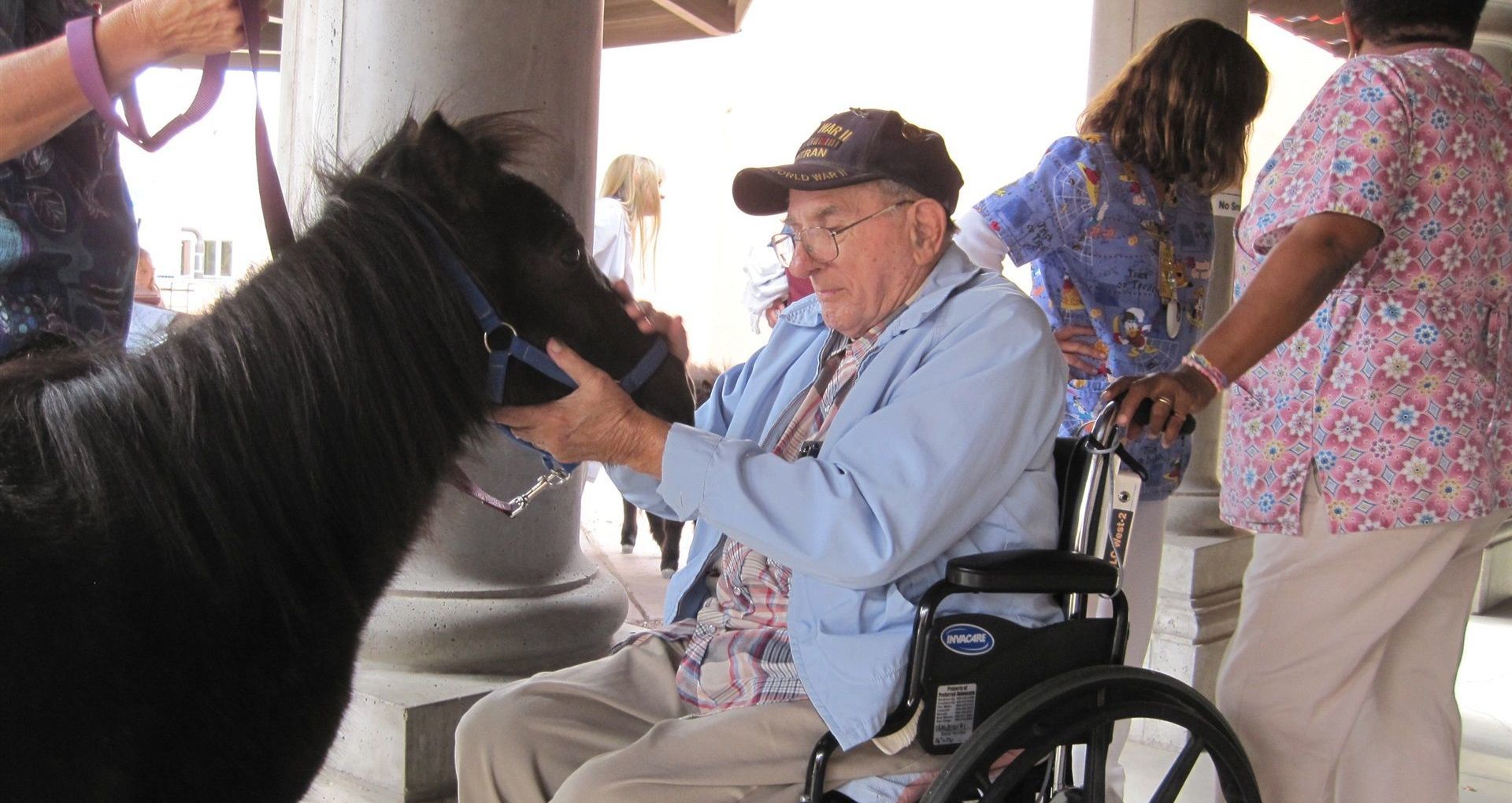 WWII Veteran with Black Pearl
There the patients are surprised and stop to see and pet our horses as they walk to and from their appointments. In January 2015, we added the Arizona Veterans Home, co-located with the Veterans Hospital to our VA Schedule.
Our therapy miniature horses are not only a novelty to the Veterans and Staff but the horses get the Veterans out of their rooms, away from the television, and into the open, fresh air.

Prior to June 2014, Alicia and Tom supported Hearts and Hooves 501c3 visits to a number of assisted living centers in Sierra Vista, AZ; Willcox, AZ; Douglas, AZ; and Lordsburg, NM out of their personal retirement funds. Volunteers from the Portal and Rodeo area devoted their own time and efforts to help support Hearts and Hooves assisted living center visits. Even to the point of taking some of the horses inside the common living areas.
Since that time, however, the costs have risen exponentially and, after June 2014, they could no longer afford to make the visits to the assisted living centers.
At The Ranch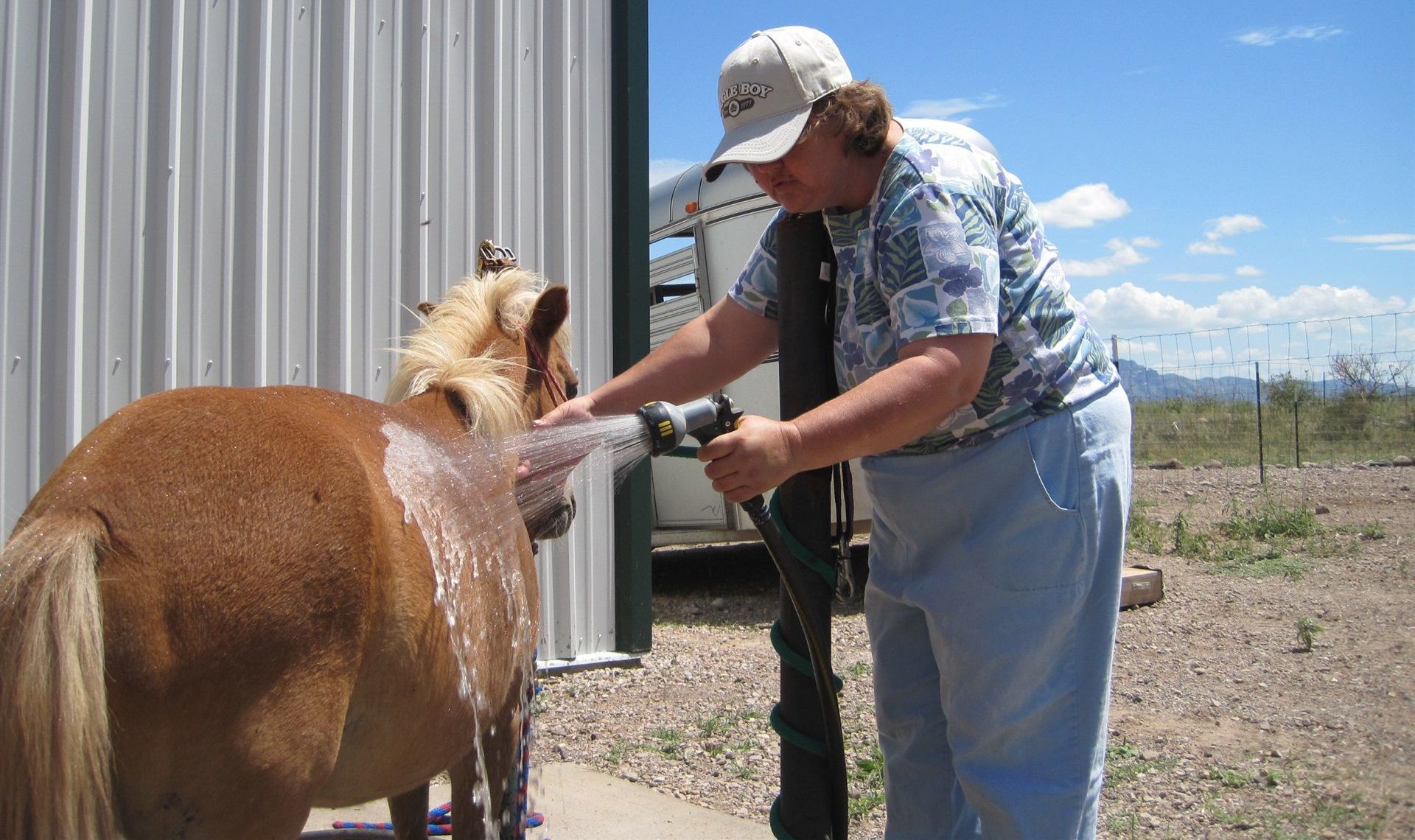 Sometimes, people find they need more time with the little horses and want to deal with them on their (horses') turf. They pack a picnic lunch and come to mingle in the corrals with the horses or to take them out for a walk – not quite sure who is walking whom! Due to their size and lovability, they are not at all threatening and beg to be hugged by people of all ages.
In addition to taking our horses to the clients' sites, our ranch is open to all to come and visit – young and old, healthy and challenged, advantaged and disadvantaged, troubled and carefree. Yes, even tourists come by to see "what all the fuss is about" as they fall in love with their favorite little mare, stallion, or gelding. We have welcomed such agencies from as far as Tucson and Safford to as close as Douglas. These agencies include Noble-Care, Inc, Community Intervention Agency, and Arizona Community Treatment Services.